HINSDALE SMALL GROUP FITNESS
SMALL GROUP PERSONAL TRAINING DESIGNED FOR ADULTS 50+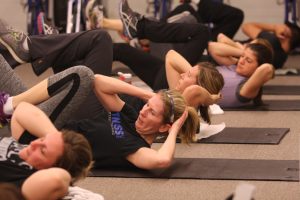 You've probably tried to go to the gym on your own, but you struggle to stay motivated and you're never quite sure if you're doing the right things.
 
At Fitness Inc, we work with men and women every day who had those same concerns until they started working with our staff of Certified Functional Aging Specialists in our fun, safe, and effective small group training programs. 
With many years of coaching experience, I've learned how to constantly test and tweak my training methods to find the best formula for my busy clients to transform their lifestyle and feel 10 years younger. And now, after years of experimenting, I think I've finally put together the perfect combination of training and accountability for people 50 and over.
Come see us here in Westmont today or simply fill out the short form on your screen to learn more!
We are super excited to start our Small Group Personal Training! 
This is a 30-minute workout to prepare your muscles for movements you do at home, work or in sports and rev up your metabolism for optimal fat loss. We also work on core strength, stability, balance, and cognition to challenge you, motivate you, and keep you accountable while having fun!
With our new Small Group Personal Training workouts you will:
• Feel 10 years younger
• Be accountable to professional coaches
• Feel safe & supported
• Feel mentally sharper
• Improve flexibility & mobility
• Improve energy
• Increase endurance
• Build strength
• Lose weight/body fat
• Extend the length and quality of your life
• Fall in love with fitness again
• Join a supportive community
• Get measurable results
In our Small Group Fitness training, we're focused on it all!
Learn More About Our Small Group Fitness Classes Here In Westmont Today!
Gone are the days when you were stuck spinning your wheels and struggling for results. At Fitness Inc, we're helping people all across Westmont and Hinsdale thrive with the help of professional coaches, incredible support, and ongoing accountability.
Fill out the short form on your screen to learn more about our Small Group Fitness classes today!