HINSDALE PERSONAL TRAINING
Our Personal Training Offers Customized Fitness Solutions And One-On-One Instruction
Are you tired of giving your all to each and every workout – only to struggle for lasting results? 
Are you tired of crowded gyms where you have to dodge intimidating people or wait in lines for a machine?
The truth is, there are a million things that could cause you to give up exercise for good. And we wouldn't blame you. 
But we're here to eliminate those obstacles and set you up for success. At Fitness Inc, our Personal Training is all about your goals and your sustainable success. We pair you with a dedicated instructor and we give you access to one-on-one training that is uniquely tailored to meet your needs.
We are proud to work with men and from all across Westmont and Hinsdale. Fill out the short form on your screen to learn more!
So, How Does Our Personal Training Program Work?
Well, our first goal is to do away with the guesswork. We want to know exactly what you're hoping to achieve and we want to know where you are right now in your fitness journey.
From there, we'll create a customized path to success that includes exercises geared toward your skill set and the goals that you have in mind.
Our Personal Training program is giving people here in Westmont and Hinsdale the chance to enjoy professional instruction and a cutting-edge facility. We train complete beginners, lifelong athletes, and everyone in between.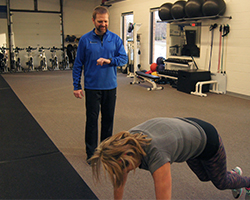 Come see us here at Fitness Inc and take on:
Lean muscle mass and functional strength gains
Healthy, sustainable fat burning strategies
Improved cardio endurance and heart health
Boosted mobility and movement for your everyday life 
Oh, And Don't Forget: We've Got Your Back Every Step Of The Way
That's the hardest part of any fitness journey, right? The ability to stay motivated to give your all to each and every workout? Too often, people are left to self-motivate and summon the energy on their own.
But at Fitness Inc, those days are long gone.
Our Personal Training program is offering you a dedicated system of support. We're here to help you get the most out of every movement and enjoy the incredible sense of accomplishment that comes with every step forward.
We're offering people in Westmont and Hinsdale access to: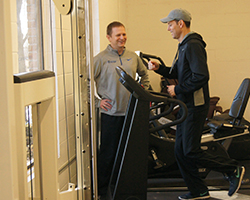 Professional instruction and hands-on coaching
Ongoing feedback and accountability from day one
Cutting-edge equipment and resources
A private setting where you can train with complete confidence
Don't Miss Out On The Best Personal Training Program In All Of Westmont And Hinsdale!
If you're ready to get more out of your fitness routine and take steps toward sustainable success each and every day, it's time for you to come see us here at Fitness Inc.
We're proud to serve people across Westmont and Hinsdale with professional fitness training and a customized solution that simply can't be matched.
Fill out the short form on your screen to learn more about our Personal Training program and everything else we have to offer.